With 16 days to go, the presidential election in the United States is finally drawing to a close. I actually took a bit of a break in August and September as I found the Donald Trump Show simply painful to watch but tuned in again for the Vice Presidential Debate and have been trying to catch up. What I see is the deeply dysfunctional nature of this election and the outsized role the media plays in it.
I actually tried to watch the first debate between Donald Trump and Joe Biden but only lasted 15 minutes before turning it off. Neither Trump nor Biden followed the rules they had agreed to and the moderator, Fox News' Chris Wallace, lost control of the event in the first few moments. At one point he had to remind the President that he "was the moderator" and Trump said he felt like he was debating Wallace instead of Biden. Trump probably thought he was going to get a free ride from Wallace since he is an anchor st Fox News but his questions seemed fair and pointed. Trump, as always was himself and painted his alternative reality view of how everything he has done has been right and if not, it is someone else's fault. Biden, on the other hand, repeatedly called Trump a liar and seemed at a loss for how to deal with him or even control his own temper at the insults, jabs, and interruptions.
Biden was much better at the Town Hall style meeting he held with ABC, the television network,  last week. That event was broadcast from Philidelphia's Constitution Center and moderator by George Stephanopoulos who is a co-host of Good Morning America and also has a weekly political commentary talk show. Stephanopoulos worked on President Bill Clinton's election campaign and was on Clinton's staff during his first term. The show was put together since Trump pulled out of the second scheduled debate when the organizers, a non-partisan group that manages the debates decided to make it virtual because Trump and members of his team had tested positive for SARS-Cov-2.
One point that came out was that the words and deeds of a President matter. Biden was sharply critical of Trump for not setting an example to the nation on how to respond to the virus, for example, by wearing a mask.
Not to be outdone, Trump went on a similar program on NBC, a rival network and they actually aired at the same time. NBC aired the event at the Pérez Art Museum in Miami with the image of the Mcarthur Causeway in the background. His moderator was Savannah Guthrie, the host of the Today show on NBC. I also watched the first 20 minutes of this broadcast and was surprised that Ms. Guthrie spent that time asking Trump a number of hard questions about his administration's response to the virus, his attitude to white supremacists and Q Anon, and his use of Twitter. The President was visibly angry at her questioning as the idea was to get questions from voters but the good news is that he finally unequivocally denounced white supremacists.
Perhaps the most interesting comment was when she challenged the President about retweeting a story about Obama and Biden having a Navy Seal Team Killed to cover up the fact that Bin Laden was still alive. Trump defended himself saying it was only a retweet and he would let people think for themselves. Guthrie's answer was "I don't get that. You're the president. You're not, like, someone's crazy uncle who can just retweet whatever."
For me, this comment, and Biden's condemnation of Trump's behavior is a key aspect of the difference between these two people and what this election is all about.  For Trump, the presidency is a prize that he won which allows him to do as he likes. For Biden and Harris, public service is a privilege and a responsibility.
This campaign and these last few weeks also show how much has changed in the media landscape in which the election is being played out. The fact that rival networks give air time to rival candidates at the same time seems to indicate that the whole thing is a tv show…a reality show like The Apprentice. The very dubious role of Social Media – and Trump's reliance on it to reach his electoral base is again a sign of our times. In case there was any doubt, the news over the next few days was not about anything the candidates said but that Joe Biden's show had more viewers than Trump's!
60 years ago there was another presidential election in the United States. This was between the Vice President, Republican Richard Nixon, and the Democratic candidate, Massachusetts Senator John (Jack) Kennedy. They held the first such debates in history and it is instructive to watch a few minutes of the first one just to remember what politics is supposed to be about. If you watch this debate you will see that the candidates differ in their interpretations of the facts but not on the facts themselves.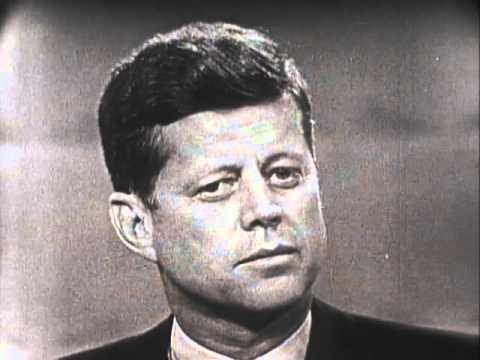 They disagree over policy but do not disrespect each other. In Nixon's words, his disagreements with Kennedy were not about the goals for the country but about the means to reach those goals. One could tell in the debate that these two men have little personal empathy for each other but the debate itself is about policy, not personality.
Going back to Joe Biden in the first debate, it seems he was genuinely surprised by Trump's behavior. I, unfortunately, was not. For the sake of the United States, and to some degree the rest of the world, I hope that the polls are correct and we will see the end of this administration in just a few short months.